SPECIAL FEATURE
Philip Ahn
Tia Carrere
Margaret Cho
Church of Rhythm
Michael Kang
Hiroshima
James Hong
Michael Kang
Bruce Lee
Jet Li
Keye Luke
YoYo Ma
Martial Law
Minoru Miki
Lea Salonga
Dalip Saund
George Takei
Kiana Tom
Tamilyn Tomita
Ming-Na Wen
Anna May Wong
Russell Wong
HOME

SECTIONS
Actors
Actresses
Athletics
Authors
Cartoonists
Dancers
Directors
Film Festivals
Musicians
Newscasters
Photographers
Television Shows
INDIE FILMS
Fish Sauce Breath
"Forbidden City"
Niche Films' Success
Quest for Length
Toyo Miyatake
APA 1ST W/E CLUB
November 11, 2002
November 15, 2002
December 7, 2002
COMMENTARY
Don Duong
Martial Arts Influence
Indo-American Films
Media Ownership Limits
Police Movies' Success
Reality Shows Provide Networks' Cheap Shows
Playing the Same Roles
Musicals
Sequels
TV Stereotypes
Unscripted TV Shows
Wanna Be a Star?
INTERVIEWS
Keiko Agena
Roger Fan
David Henry Hwang
Amy Tan
Mira Nair
Vivek Oberoi
Die Another Day
Will Yun Lee
Zhang Ziyi
RESOURCES
Children Now's
FENNEC Database
Poop Sheet
Wanna Sell a Script?
DIVERSITY
Coalition Under Fire
Media Ownership
Politics of TV
BUSINESS INFO
Film Financing
2002 - Film Co, Statust
Hollywood's Managera
Murdoch in China
MEDIA INFO
4 Maverick Directors
Bollywood
Censorship
Disney Editing
Pusan Intl. Film Festival
Indie Directors Tales
Niche Networks
WB's 1st Chinese language Production
Interview with Eric Byler
Discover the Passions That is Behind
The Creation of the film "Charlotte Sometimes"
Part 3 of 6 Pages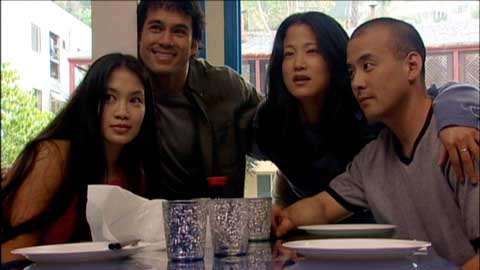 The Cast of "Charlotte Sometimes"
SYNPOSIS: Michael is a Japanese American auto mechanic torn between a restrictive traditional upbringing and his own potent dreams and desires. Secretly in love with the girlishly sexy, Chinese American Lori, Michael represses his longing (and growing resentment) to maintain their cherished friendship.
When he encounters the mysterious Darcy at the local nightspot, Michael is forced to choose between a daring tryst with an alluring stranger, and the habitual comfort of his bittersweet obsession.
THE CASTING AND THE PLOT

US ASIANS: Was the plot to "Charlotte Sometimes" based on a past experience(s) in your life?

ERIC BYLER: Very little in the story actually happened, but the emotional core - the vibe, the mood, the atmosphere - are very particular to my life, and to the lives of the actors. In many ways, the film is a confession.
US ASIANS: Could you share the reasons and stories behind the casting of the characters in your film?

ERIC BYLER: I wrote "Darcy" for Jacqueline Kim.

Matt Westmore won the part of "Justin" with his first audition.

I had a feeling Eugenia Yuan would be perfect for "Lori," having worked with her at Lodestone.

It was very difficult to find the perfect actor for "Michael."
I invited Michael Idemoto to audition late in the game, in large part because I couldn't choose between the actors I'd narrowed it down to.
US ASIANS: Can you share the unique story behind the casting of Michael Idemoto?
ERIC BYLER: Michael Idemoto was someone I remembered from films like "Sunsets" and Justin Lin's short film "Breezes," part of an APA anthology film called "OBITS." Michael wasn't the type to show up at auditions though, and in the midst of pre-production I forgot about him.

MICHAEL IDEMOTO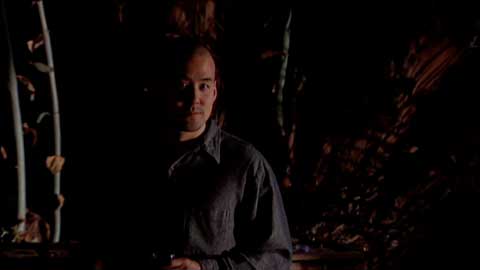 Michael Idemoto
Idemoto was born in Freedom, CA where he made a collection of short films on Super 8 film starting at the age of 16. His camera experience paid off in 1997 with the release of Sunsets, the acclaimed Asian American feature film directed by Idemoto and "Giant Robot" front-man Eric Nakamura.
Sunsets is best remembered for Idemoto's charismatic performance as a college-bound criminal roaming the streets of a California farming town.
The success of Sunsets lead to Idemoto's next acting/filmmaking gig-- the 1998 compilation feature O.B.I.T.S.
He directed a 30 minute segment of the film, titled "America 0 of 30: Letters to Wendi," and starred in a 20 minute segment, Breezes directed by Justin Lin.
Idemoto established himself as one of the most intriguing figures in Asian American independent cinema

The search went on for weeks. The start date was approaching, and I still didn't have a leading man. It was actually a dream that reminded me of Michael. The idea made so much sense, it woke me up.

The next morning I tracked down his number and asked him to audition. He liked the script. But I almost felt like I was auditioning for him when we met for the first time.
He might deny it, but I remember him saying to me, "I love the idea, but, do you really have the goods to pull this off?" I suggested we drive across town, in the rain, to watch my short film at the production office. After seeing "Kenji's Faith," he said, "Okay, what do I have to do?"
I asked him to read with Jacqueline and Matt - who'd been cast already – and later with Eugenia, who won the part after doing the same.

I knew that the dynamic between Jacqueline and Michael would be the key. Ultimately, I chose Michael because the two of them were great together. If I had to identify the moment I knew for sure, it was a brief glimpse of Michael and Jacqueline with Matt-- as they read the scene where "Justin" and "Darcy" first meet.

Michael and Matt were perfect rivals, with Jacqueline caught in between. Jacqueline and Eugenia were perfect rivals too. If I hadn't been fortunate enough to strike the right balance with all four lead actors, I'm certain the film would not have been a success.

US ASIANS: It has often been stated that talented actors bring additional textures, could you share (in your opinio) what unique perspective(s) that they added to their characters?
Eugenia Yuan
ERIC BYLER: They all contributed a great deal. Michael Idemoto brought sincerity and integrity to "Michael"—whereas I'd written him to be more of a deceiver.

Eugenia Yuan's "Lori" was more vulnerable, innocent, and I guess more forgivable. Together, they developed a sort of childlike, flirtatious chemistry that was kind of unexpected. I decided to go with what developed naturally. That's why I added the scene in the junkyard, where Lori hangs with Michael in the car with no engine. I also rewrote the ending.

Matt Westmore and Jacqueline Kim departed less from my original ideas. They fully understood the characters I'd written and just became them. I think that's why both were so comfortable with improvisation. The moments leading up to sex in the hotel room are entirely improvised. You can see it, also, in their repartee during the lunch scene.

I planned for a level of improvisation in all the performances, even though most of the dialogue was scripted. There was always an unknown variable for the actors to look out for, and react to.
US ASIANS: How do you set-up a particular scene that provides opportunities for the actors to improvise?

ERIC BYLER: I give the actors objectives that can change as the scene develops. I create surprises for them to force them to listen and react in the moment.

For instance, at the top of Darcy and Michael's "last supper," I instructed Michael to get up and walk away without explanation.

Jacqueline was shocked.

It turned out he was only putting wood on the fire, but when he returned, Jacqueline played the rest of the scene in a watchful state of uncertainty, which lent itself to the character and the situation she was faced with in the film.

Scene from Eric Byler's "Charlotte Sometimes"
featuring the following actors:
Darcy (played by Jacqueline Kim) and
Michael (played by Michael Idemoto)
To read about Eric's views on other subjects, click on the topics listed below

Part 1: Background Information (Family, Personal and Entertainment)
Part 2: Entertainment community support, Film revieww, Opening Dates
Part 3: Casting of the film, Michael Idemoto Profile, Plot, Working with the actors
Part 4: Asian Pacific American Factors, Jacqueline Kim & Eugenia Yuan's Profiles
Part 5: Community support, APA role models, Purpose of the arts
Part 6: Film Reviews and Nominations
Any questions regarding the content, contact Asian American Artistry
site design by Asian American Artistry
Copyright © 1996-2003 - Asian American Artistry - All Rights Reserved.